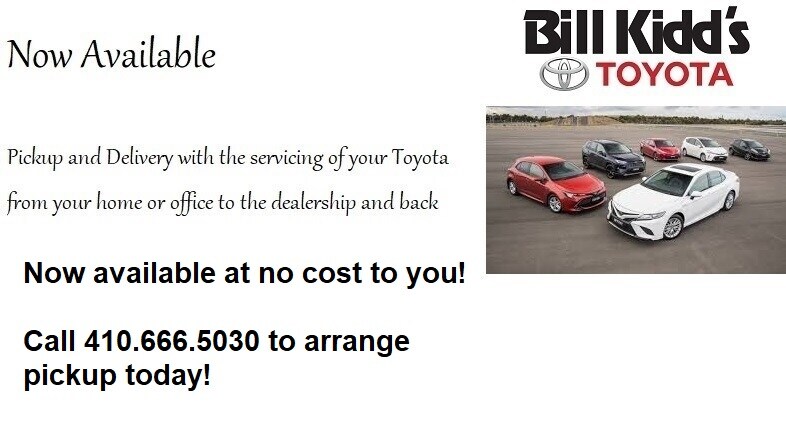 Vehicle pick-up and delivery is complimentary until further notice!
The cost for this service is based on driving distance to the dealership according to Google Maps and are as follows:
There is a $15 fee for vehicles picked up between 0 and 9.9 miles from the dealership
There is a $20 fee for vehicles picked up between 10 and 19.9 miles from the dealership
There is a $30 fee for vehicles picked up between 20-30 miles from the dealership
Pick-up and delivery is not available for vehicles garaged outside of a 30-mile drive to the dealership.
If you'd like a rental vehicle to use while we have your vehicle, they are available starting at $35/day (limited availability, see dealer for details).
Pick up and Delivery times are approximate due to staffing, traffic, weather conditions, etc. Owner of vehicle must be present at time of pick-up and delivery to sign corresponding paperwork. Customer is responsible for any fuel that must be added to their vehicle for pick-up and delivery.  Charges for fuel will be shown on the customer's invoice.
All pick-up and delivery appointment requests must be made over the phone, as our online scheduler is not set up to handle such requests.
Prices are effective 9/1/2020 and are subject to change. *Official pick-up/delivery guidelines apply.
*CUSTOMER ASSUMES THE RISK OF ANY LOSS OR DAMAGE TO THE VEHICLE THAT OCCURS DURING PICK-UP OR DELIVERY.Customer releasesTTV motors, Inc., its shareholders, officers, employees, successors and assigns (collectively, the Released Parties) from any and all liability for any loss, damage or injury to the Vehicle or any person or property arising out of or in connection with the pick-up and delivery service provided by TTV motors, Inc. unless directly caused by the negligence or willful misconduct of TTV Motors, Inc.  TTV Motors, Inc. is not responsible for the acts of third parties, nature, projectiles like stones or road debris that hit the car, or anything not caused by the driver. This Release shall be binding on Customer and Customer's successors and assigns. TTV Motors, Inc. SHALL NOT BE LIABLE FOR LOSS OF OR DAMAGE TO ANY PROPERTY OF CUSTOMER OR OF ANY OTHER PERSON WHICH MAY HAVE BEEN IN OR ON THE VEHICLE.Customer hereby agrees to assume all risk of such loss or damage and waives all claims therefore against TTV Motors, Inc., its employees and agents. No term of this Agreement may be waived or changed except by a writing signed by an authorized representative of TTV Motors, inc..This Agreement constitutes the entire agreement between Customer and TTV Motors, Inc. with respect to the subject matter.All prior representations and agreements between TTV Motors, Inc. and Customer regarding the pick-up and delivery service and TTV Motors, Inc.  possession of the Vehicle are merged into the Agreement.The failure, refusal or neglect to exercise any rights under this Agreement does not constitute a waiver of any other provisions of this Agreement.If any of this Agreement is deemed void or unenforceable, the remaining provisions are valid and enforceable.This Agreement shall be governed by the laws of the State of Maryland.  TTV Motors shall mean and refer to Bill Kidd's Toyota Service, Bill Kidd's Volvo Service, Bill Kidd's Automotive and any other entity affiliated with or related to any of the foregoing entities.