Officials open $190,000 pavilion at Oregon Ridge Park

Rachael Pacella
Contact Reporter
Towson Times
A new pavilion at Oregon Ridge Park will enhance programming at the county facility for decades to come, officials said at a ribbon-cutting ceremony for the structure Tuesday.
The 40-foot-by-52-foot Kidd's Nature Pavilion will be used to complement nature programs and provide a shady respite for other outdoor activities, such as camp and field trips to the Cockeysville park.
It seats more than 100 people and includes amenities such as fans to provide airflow on stifling summer days, lighting for programming after sunset, and rain barrels to capture the water flowing off the pavilion's roof during storms. It is oriented to overlook a meadow, and located near the nature center on the north side of the 1,100-acre park.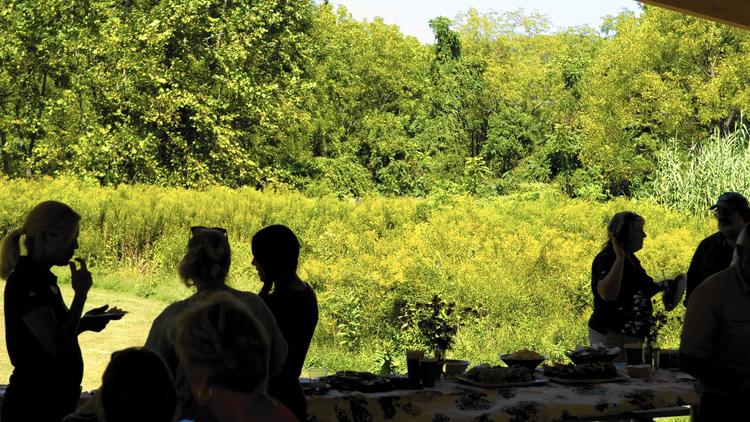 The pavilion was built over the summer and completed last week, Baltimore County officials said.
The pavilion cost $190,000 to construct; $10,000 of that came from the Oregon Ridge Nature Center Council, a nonprofit that conducts nature programs at the park, while $40,000 was donated by the pavilion's namesake, Bill Kidd's Timonium Toyota, and the remaining $140,000 came from Baltimore County, officials said.
The facility is built of high-quality materials, said Chris McCollum, the county's Executive Director of Agriculture, Nature and Special Facilities.
"I feel that we actually get great pricing for what we build because the things we build last many, many, many years, decades and decades" McCollum said. "So you can go back and see some of our pavilions that were built 40 and 50 years ago, we're still using them. So I fully anticipate this pavilion to be here many, many decades to come."
An example, McCollum said, are the pavilion's solid trusses, which support the roof but don't have gaps, preventing birds from nesting there - birds that could potentially cause a mess below.
The pavilion also has picnic tables and access to electricity and water. While tables for disabled persons weren't yet installed Tuesday, McCollum said some were on the way.
Some of the rain that falls on the pavilion will be diverted to rain barrels. Oregon Ridge is a certified green center through the Maryland Association for Environmental and Outdoor Education, so when officials replaced a former open space with concrete and a roof, they also considered how to make up for the lost land.
The water "will all be put to use, it won't be running off into streams or anything," McCollum said.
The water that's collected could be used for craft activities, or to water gardens at the park, senior naturalist Winny Tan said.
The pavilion offers visitors a chance to remain outside while also offering some protection from elements such as sun or rain. The pavilion will be particularly useful for lunch breaks when students are on field trips to the park, for campers in the summer or when other groups come to the nature center, Tan added.
It will also be helpful during festivals at the park, such as the upcoming Honey Harvest festival at the start of October, Tan said.
Oregon Ridge Park is visited by 330,000 people every year, County Executive Kevin Kamenetz said prior to the facility's ribbon cutting. South of the nature center is a stage which draws thousands of visitors for special events.
But the aspect of the park that county officials are most proud of, Kamenetz said, are its nature programs. The new pavilion should bring more attention to the area around the nature center, which includes a historic building and gardens, but doesn't get the "main traffic," he added.
"To have this particular facility here, I think, will allow more people to experience this side of the property," Kamenetz said.
Carol Mantegna, a retiree from Cockeysville, has volunteered at the park for 10 years; she is currently a nature guide for first, second and third graders. Mantegna, who taught environmental science and zoology in Baltimore County Public Schools for 34 years, sees an opportunity for enhanced hands-on outdoor learning with the new pavilion. Students can gather samples from the field and examine them without needing to go back inside, she said.
"Until you collect things and see things, you don't understand how awesome nature is," Mantegna said.
After the ribbon cutting, families playing nearby were invited to the pavilion to share lunch with county officials, nature instructors and park volunteers.
Parents and grandparents said they would use the new pavilion for activities such as birthday parties for children, or simply as another opportunity to be outside.
Cheri Garber and her daughter, Alexandra, 5, were at the park Tuesday for a program called Kinder Garden Club, during which children ages 4 and 5 learn about gardening at Oregon Ridge. Tuesday's lesson was about seeds. Thanks to that program, Alexandra now goes to Garber's personal garden at their home in Towson and eats green beans right from the plants, Garber said.
Getting her daughter outdoors to learn is important, she said, and reminds her of her own childhood spent kayaking, hiking and bicycling.
Former Oregon Ridge naturalist Bob Stanhope also attended the ribbon cutting. He became the park's first naturalist in 1980, and retired in 2009, he said.
The best part of being a naturalist is flipping over a rock and finding a centipede, then seeing a child's reaction to that, he said.
"You're waking them up to nature, which you don't get these days," Stanhope said. "Everything is on a battery,"
Stanhope, who still volunteers at the park, said he believes the pavilion will be a popular spot.
"It's a better view than looking out a window," he said, surveying a nearby meadow.