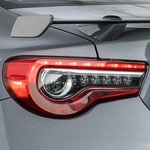 When you think of what makes a sports car fun to own, chances are you usually aren't thinking of the interior. However, designers at Toyota know that since drivers and passengers will be spending the majority of their time inside their sports cars and not admiring their exteriors, they really went all out with the Toyota 86.
The 86 has an interior that demonstrates designers who know what they're doing. With an impressive amount of trunk space, incredibly comfortable seats, and an overarching theme of style and practicality merging, the Toyota 86 is a real game-changer in the world of sports vehicles.
Here at Bill Kidd's Timonium Toyota, we've heard a lot of positive things about the Toyota 86, but don't just take anybody's word for it. Come test drive the Toyota 86 yourself, so that you can see whether or not all the hype about this sports car was really on the mark.