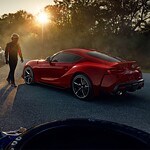 Have you seen the latest Toyota GR Supra? The new model is astounding drivers across the world. With an incredible six-cylinder inline engine, the GR Supra takes on any highway or track with magnificent horsepower and handling. There are multiple driving modes to pick from, including one specifically for sport mode. If you love to rev the engine, the GR Supra's gear shifting and throttle make it an extremely fun car to drive.
The 3.0-liter inline six-cylinder is a special engine for the new Toyota model. BMW helped tune the engine so that it has similar performance to the BMW M340i and Z4 M40i. Supra's engine gets 330 horsepower and up to 365 pound-feet of torque. With superb handling and precise steering, this sports coupe lets you take on any challenging roads or tracks with ease.
Want to see what it's like in the latest sports coupe from Toyota? You can test drive the Supra when you visit Bill Kidd's Toyota located in Cockeysville.